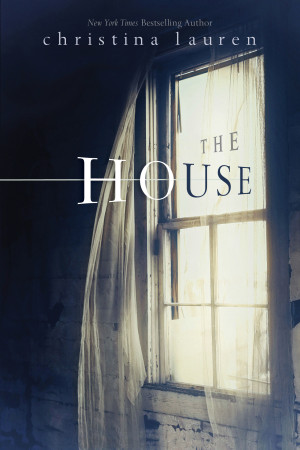 This creepy and chilling tale features Delilah who falls for the strange outsider, Gavin, who lives in the "patchwork" house that raised him. The House has its own personality, seemingly warm and loving at the start but begins to turn more and more sinister as Delilah and Gavin grow closer. When Delilah asks him where he will go to college, the room gets colder; House clearly doesn't like Delilah. As they realize the reach and control that House has over their world, the teens begin to realize how dangerous the situation is and secretly begin planning to escape.
Christina Hobbs and Lauren Billings join together to create a gripping page-turner that is sure to please both avid horror fans and reluctant readers alike.
Other Reviews
VOYA, December 2015 (Vol. 38, No. 5) - Liz Sundermann
Delilah Blue returned from boarding school and immediately fell into an intense romance with the mysterious Gavin Timothy. The only problem is that Gavin's house disapproves. Gavin's house is alive. In fact, Gavin does not have many memories of any family but House. House raised him: age-appropriate toys appeared on the landing; Piano taught him how to play music; now money appears as needed; and Kitchen continues to cook his meals. He has never wanted for anything. But House is jealous of Delilah's affection and slowly reveals that it will stop at nothing to keep them apart. The House has enough horror and romance to interest genre readers. The well-paced chapters alternate between Delilah's and Gavin's points of view seamlessly. The premise is unique, and the descriptions of House's actions let the reader know, with increasing alarm, that it is up to no good. Unfortunately, the story just is not believable. A possessed house with a personality and the ability to move its own furniture around is one thing. A possessed house that can create and destroy matter is another. House knows everything that Gavin is thinking, except when it strangely does not. It is self-aware and knows everything that goes on within its walls, except when it strangely does not. There are too many gaps, and the readers must suspend disbelief for too long in order to buy into this story.
The ending is abrupt, dissatisfying, and more unbelievable than the rest
. Teens interested in romance and horror would likely check this out, but they might be disappointed. Reviewer: Liz Sundermann; Ages 12 to 18.
School Library Journal 10/01/2015
Gr 9 Up—Delilah Blue would do anything for her crush, Gavin. She is sent to boarding school after beating up bullies who attacked him. Seven years later, she is back in Kansas and her obsession with Gavin hasn't changed. The two become inseparable. But a dark force threatens their relationship—the house that Gavin lives in. It provides everything that Gavin could possibly want and need in life. But the house doesn't want Delilah to be part of his life. When it gets mad, it becomes possessed and terrible things happen to the two teens. Gavin soon realizes how abnormal this is and begins to wonder about what happened to his mother, of whom he has only vague memories. What will happen when he graduates and leaves for college? Will the house let him go? This eerie work by the author team of Christina Hobbs and Lauren Billings is told in chapters that alternate between Delilah's and Gavin's accounts. With a swiftly moving plot and eerie elements that
will surely raise goose bumps
, this novel can be enjoyed by voracious horror fans and reluctant readers alike. VERDICT Give to teens who enjoy spine-tingling haunted house and ghost stories like The Old Willis Place by Mary Downing Hahn (Clarion, 2004) and The Summoning by Kelley Armstrong (HarperCollins, 2008).—Shannon Seglin, San Antonio Public Library
Kirkus Reviews★ 2015-07-15
A rebellious girl falls for a strange boy who lives in an even stranger house. This
superior and unusual
horror story opens with Delilah, who feels neglected by her unfeeling parents. She's attracted to Gavin, who has lived quite differently: he was raised by the house he dwells in, a living being that loves him and cares for him. He communicates with House and its various parts, such as Fireplace, which tends its own fire, Bed, which stretches at his request, and Piano, which taught him how to play music. He has no idea what happened to his mother, only that House has always cared for him, serving him abundant food and giving him toys. When he brings Delilah home, and she asks where he wants to go to college, the room becomes colder. House clearly doesn't like Delilah, but leaving it isn't going to be so easy. With great secrecy, they begin to plan their escape. Things will, of course, go horribly wrong. Lauren (a joint pen name for Christina Hobbs and Lauren Billings) taps into classic haunted-house memes, drawing those ideas to the max as they imbue House with a distinct, sinister personality. Intrigue builds, and suspense slowly creeps in as readers begin to realize the extent to which House can control events, and the real danger in which the teens find themselves constantly ratchets up. Don't read it at night. (Horror. 12-18)